It's been 40 fantastic years of growing trees and traditions at Ellms Family Farm!  Chip and Sally Ellms, along with Chip's father Bud,  moved to the original farm on Charlton Road and promptly began planting trees on the land in 1983.  1990 marked the first season of Ellms Tree Farm and with the help of three generations, the farm has been providing the Capital Region area and beyond with beautiful Christmas trees, wreaths and holiday experiences including cut your own, ever since.  In 2000, Chip and Sally purchased the land adjacent to their farm from the Palmer family and began planning for the next phase of Ellms Family Farm.  In 2005 with the help of their three grown children, Chip and Sally opened for their first Fall season full of family fun activities including a Corn Maze and a Pick Your Own Pumpkin Patch.
2019 marked a special year for the Ellms Family as Chip and Sally's three children – Sasha, Ashley and Garth – have taken the reins of the Fall Family Farm and have continued adding more activities for the Fall season to bring the current count to over 45 family fun attractions.  While the baton has been passed to the next generation,  the core Ellms Family values remain the same: providing invaluable family experiences and traditions for all of  guests who come to their farm.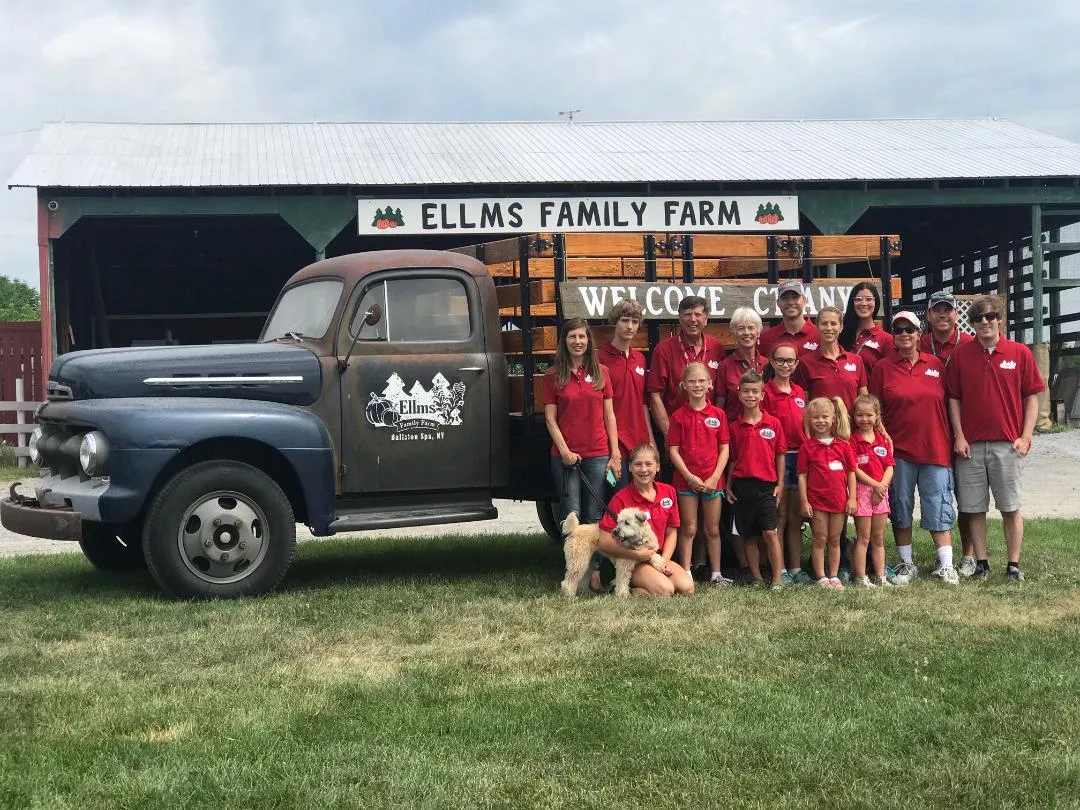 Not far behind the siblings, is a fourth generation of future farmers growing up on Charlton Road.  Aven, Calla, Ryah, Atli, Harper, Kinley and Clover are not just named barns, buildings and activities you will find at the farm, they are also Chip and Sally's grandchildren.  Ranging in ages from 10-21, you can find the junior farmers in training performing "quality control" and ensuring each attraction is as fun as the last.  From our family to yours, we look forward to sharing our farm with you and let the traditions begin!   
Plan Your Visit or Host an Event at Ellms Family Farm.